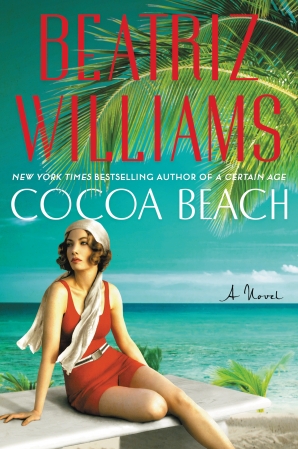 Summer in Maine…these are the days that carry me through the snow and slush and darkness of winter in Maine.  How then, could I imagine journeying to Cocoa Beach, Florida with Virginia Fitzwilliam to settle her husband's estate?  Oh, easily!
When we are introduced to Virginia, she is a Red Cross ambulance driver in World War I, serving in the thick of the battlefields of France.  She transports a wounded but handsome and intriguing Captain Simon Fitzwilliam, and falls in love with him during his recovery. They definitely have charisma and passion, but are they a lasting match?
Simon and Virginia marry, but live separately, Virginia and their daughter in New York City and the Captain in Florida.  Five years later, news of his death sends Virginia to his estate.  She doubts he has died in the fire that burned down the seaside home he built for their family, and her doubts increase as she stumbles upon Prohibition era rum running and other less than legal business pursuits connecting back to her husband.  Looking for the truth about the man she loved, Virginia becomes tangled in danger that will threaten both her life and the life of her daughter.
I am a Beatriz Williams fan.  There is a glamorous escapism to her novels that is just right.  I have enjoyed knowing characters through a series of books, seeing the focus change from person to person, but at the same time, found these new people and their new locales a positive change, and Cocoa Beach a good read, any season of the year.